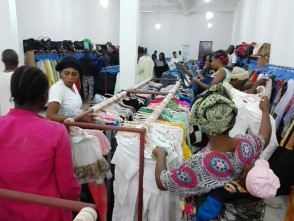 The member associations of the Humana People to People International Federation of Europe and North America have set up a second-hand clothes and shoes collection system, which allows them to dress cheaply people in need and especially to protect the environment through recycling.
The sale of second-hand clothing and shoes thus collected creates many jobs both abroad and in the Democratic Republic of Congo where the daily lives of 55 Congolese employees and their families are improved.
The value of the donation of clothes and shoes as well as the profit of the sale are reinvested in the operation of the development projects executed by HPP-Congo, in this case the teachers' training school DNS Mbankana.
Second hand clothes and shoes are sold only in 2 weeks, and at relatively low prices. The maximum price per item is $ 5.00 for clothing and $ 10.00 for shoes. These prices were falling daily during the two weeks of a sales cycle to the point of reaching $ 0.1.
Until then only in the city of Kinshasa, the shops selling clothing products are located at the following addresses: in the commune of Gombe, 3 shops at the avenues of De l'Ecole Nº225 , du Plateau Nº63 / 52 and de la Paix at the INSS building (next to the presidential galleries building); in Kintambo commune, at O.U.A. Avenue Nº27 (Kintambo Magasin junction); in the municipality of Selembao, at 17 May Avenue Nº2 (U.P.N. junction); in Kalamu commune, at Lokolama Avenue (500 m from victory crossroads), in Mont-Ngafula commune, at Matadi Road Nº71, Q / Matadi-Kibala.